Michael Wedge and Peter Batterham claimed a commanding class win on debut with Targa Racing at this years Winton 300. The iconic Victorian circuit played host to forty two (42) starters in very wet conditions, all in a chase for class and outright honours. The Wedge-Batterham entry qualified strongly in class and continued to surge past the outright contenders. Peter Batterham put on an incredible display during his 47 lap stint passing a variety of premium class contenders through the 'twistiest' sections of Winton Motor Raceway including the treacherously slippery 'sweeper'.
The event saw the appearance of the safety-car on no less than 8 occasions as the field struggled to stay on-track and avoid the unforgiving barriers. Batterham took advantage of the interruptions and pitted as conditions continued to deteriorate. Michael Wedge exited the pits with seconds to spare before the safety car pitted and racing resumed.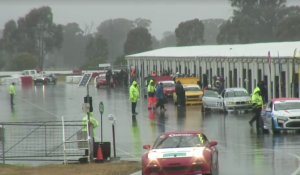 The pair were now 2nd in class and within visual range of the class leader who had yet to complete their compulsory pit stop. Wedge acclimatised immediately in the late model MX5 and started a relentless campaign to pass as many competitors on the outside of turns 4 through 10 as he chased the then class leader. On lap 63 Wedge took the lead as the opposition pitted and continued to increase the gap as the field raced towards the finish. Despite the continual deterioration in conditions Wedge set the fastest time in class before the safety car reemerged for the final time.
With a class lead and a top 10 outright slot the Wedge-Batterham due prepared for a restart in a chase for more outright positions. Regrettably their charge was halted as the race was declared due to the worsening conditions.
An amazing result for the Queensland based pairing and a deserving outcome for such a focused and committed effort on debut with our Targa Racing stable.
Targa Racing would like to congratulate Michael & Peter on their well deserved win and thank them both for allowing us to be a part of their racing success.