Brian Ferrabee and Anthony Bonanno will team-up to fight for class and outright honours at this years Valvoline Winton 300 aboard their BMW M Coupe.
Ferrabee is synonymous with sports car racing having competed at almost every track in Australia and several abroad. His early model Mazda MX5 has been a stalwart of Queensland racing for decades. Ferrabee is responsible for establishing the Production Sports Car Racing Association of Queensland (PSCRAQ) in 2003.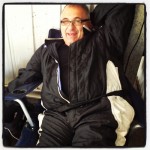 Bonanno, owner and operator of Brisbane's Valley Car Clinic has satiated a childhood love affair of sports cars and racing with a variety of highly competitive MX5's & BMW's. His most recent outing with co-driver Paul Chapman saw the team secure an outstanding pole position for the Sunday endurance event at the inaugural Modern Sports Cars series.
Their canary yellow BMW M Coupe has proved to be consistently fast at a variety of circuits including Bathurst, Queensland Raceway, Wakefield Park & Lakeside.
The Valvoline Winton 300 is set for a start this Sunday with on over subscribed field of quality drivers from around Australia. The competition will be tough but the pairing have wisdom, experience and some clever hardware from Germany to help their podium assault.